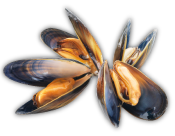 Our premium quality Saltspring Island Mussels are grown in the incredibly rich, cool, clean coastal waters of BC. The abundance and variety of phytoplankton and microalgae in these waters is the primary reason behind our very sweet, unusually plump mussels.
The variety of Mytilus mussels grown on our farm is also a key determinate of quality. We grow pure lines of Mytilus galloprovincialis (Gallo or Med Mussels) and Mytilu edulis (Atlantic Blue or PEI Mussels). In addition, we cross or hybridize these mussels to create new varieties. These new varieties have the best attributes of the pure lines while exhibiting a different spawning season. This breakthrough allows us to harvest plumb, sweet, meat-filled mussels all year round.
Our small, local operation means we can pay more attention to details, and offer reliable distribution, resulting in a fresher mussel with an extended shelf-life. We have the latest processing and harvesting equipment that allows us to harvest and ice our mussels seconds after leaving the ocean. Mussels remain immersed in ice throughout processing and shipping. This practice is the key to shelf-life and flavour retention of our Saltspring Island mussels.
Saltspring Island Mussels are cleaned, de-bearded and size graded prior to inspection and packaging at one of BC's most advanced, HACCP certified processing plants. Properly handled and continuously immersed in drained fresh-water ice, our mussels should remain fresh for 10-12 days from date of processing.